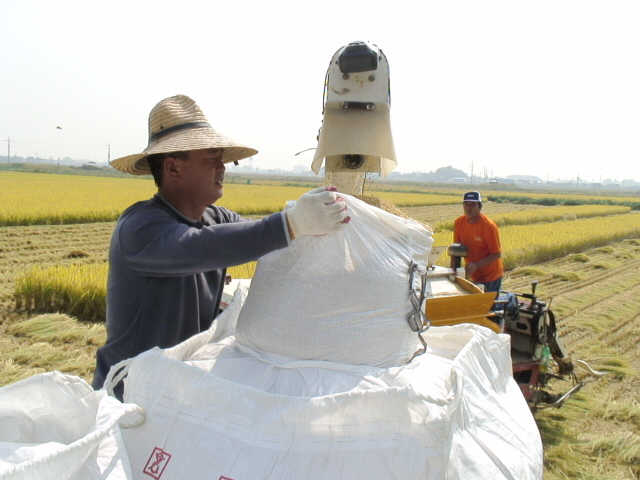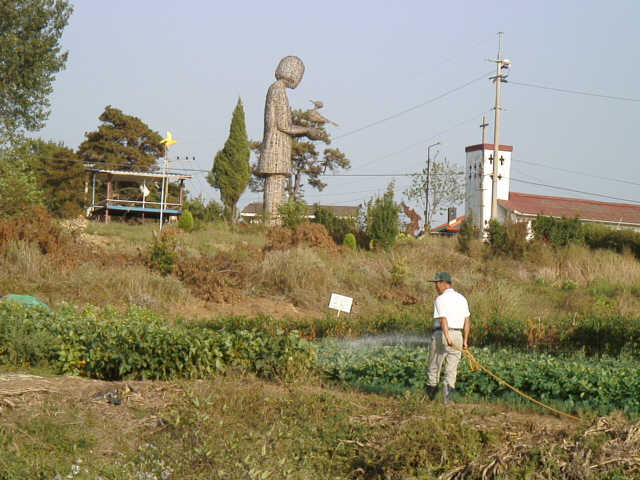 The annual Korean celebration of the harvest, Chuseok, took on new importance this year in Daechuri and Doduri. Military occupation of most of their fields has made this year's rice harvest much smaller than previous years. But villagers decided that the few fields that hadn't been occupied and fenced off, instead of being farmed by their owners as in previous years, would be planted and harvested collectively. The Ministry of Defense claims that all farming is illegal even in these fields, but villagers have gone ahead anyway.
Since the rice harvest began a few weeks ago, residents have cleaned and bagged their rice at a small facility in Daechuri, and distributed sacks of rice to each family. Villagers also continue to work in their family gardens, or in the case of new residents, in abandoned gardens that they reclaimed and planted in the summer. The first harvests from these gardens have already begun, and residents have started making the kimchi (a Korean staple made from radishes, cabbage or other vegetables) that they'll eat during the winter.
Family members of villagers, and groups of visitors from around Korea, came to Daechuri and Doduri to stay during the Chuseok holidays last week. Outside visitors, including a group that came by bike from Seoul, took part in the nightly candlelight vigils and helped out in the town's gardens. Residents' children and grandchildren participated in Chuseok ceremonies at home and had special holiday foods on Chuseok day. At one night's candlelight vigil, residents sang in a karaoke-style singing contest, with prizes and raffle gifts for every household.
On the afternoon of Chuseok, a group of villagers and some visitors wandered around Daechuri playing Korean drum music. At every house in town, the band came into the courtyard for a short, very loud ceremony that was traditionally meant to scare evil spirits out of the house. The households thanked the band with by offering them food and soju alchohol before they continued to the next house.
In the village of Doduri, a group of residents and visitors spent several days leading up to Chuseouk carving 30 wooden birds called Sotdae. The Sotdae birds represent wild geese, like those that sometimes fly over Daechuri and Doduri. They're made to be set in front of houses, to bring happiness and well-being to the household. The 30 Sotdae were given as Chuseok gifts to each household in Doduri, partly because the town was especially hard hit during the recent police attack. On September 13 most empty houses in Doduri, and even a squatted house where new residents lived, were destroyed.

Meanwhile, the trial of Daechuri leader Kim Ji Tae, a political prisoner since May, is scheduled for mid October. But the trial, which has already been postponed several times, will not be the final hearing. Prosecutors have already filed new appeals to keep Kim in prison for longer.
The goverment continues to threaten to force residents to leave, now with phone calls and postcards to "remind" them that the deadline is October 31. The villagers plan to still be here in November, and next Chuseok, and beyond.

photos: rice harvest; working in garden in Daechuri. Photos of Chuseok will be posted to this site soon.